Today, we get to know the man behind Scars, one of the strong forces behind the local independent clothing industry, Chad Manzo. I feel that any introduction I write here will never do the actual interview justice, so let's get to it, shall we?
Tell us about your background in art. At what age did you become interested in drawing? Did you always want to be in this field?
My interest in art started at early grade school where a classmate of mine (whom I recently met again, since he is based in the USA) drew the craziest ninja turtles and metal tanks. I became obsessed in drawing ever since. It was not only till I was in high school that I was really interested in taking my "supposed" design skills further, so I took up Fine Arts with a major in Advertising. I would feel blessed to be situated anywhere wherein a field requires my creativity, so yes, I've always wanted to be in "this" field.
This is a typical artist interview question and hope you don't mind: Who or what inspired you to start making art?
Tons of people. Backbone influences are of course, Takashii Miike, Junji Ito, John K., Junko Mizuno, Ed Roth, Ron English, Frazetta, Salvadore Dali, Monet, Van Gogh, Jack Kirby, and Walt Disney.
You are both a graphic designer and an illustrator. Not a lot of artists can do both. How has graphic design helped you in your job as an illustrator? How has being an illustrator helped you in graphic design?
First of all, thank you for being aware that both disciplines, though similar in some form or manner, are very very different. Both paradigms help me think more than what is usually thought of or spoken about any given project. I think there is a balance of both whenever I do something creative. It's like Hawk and Dove!!! With Hawk being the illustrator, and Dove being the graphic designer.
Your style, especially when it comes to shirt design, is unique and you also have an amazing knack when it comes to colors. Your shirt designs seeem to be influenced by cartoons us 20-somethings can recognize. That's just our opinion, though. Tell us, what things have truly influenced your style?
Thank you! A large chunk of my style is definitely influenced from John K., Teenage Mutant Ninja Turtles, Junji Ito, and most of my being an 80's-90's kid has rubbed some sort of magic into it. I definitely thank Filmation studios and comicbooks for being a HUGE inspiration on how I color my work. Those were the good times. The toys and shows back then were very very very BADICAL. TO THE MAX. COWABUNGGA.
If you weren't an artist, what do you think would your job be now?
Either a musician or something that involves film. I have always loved to do something over-the-top-knock-your-baby-socks-off-an-unborn-fetus movie of some sort. Should write.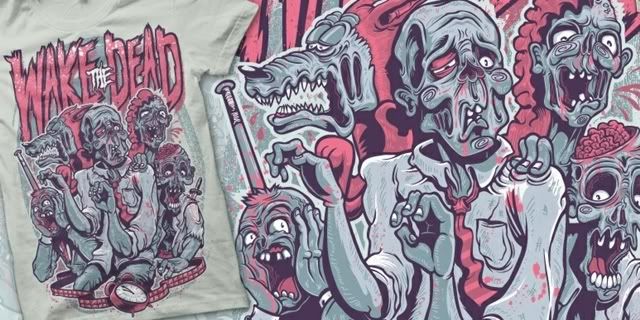 What is the story behind your brand name, Scars?
Scars was not my first foray into the world of apparel. I had one before and I made the big mistake of NOT creating an identity out of it. Anyway, Scars was (and still is) an experiment. An anti-thesis to my current illustration style, a stubborn sore thumb telling me to do things differently.
The scene was (and still is) DOMINATED by Nick Automatic. I would not want to be swallowed whole by NA's huge influence and presence, so I thought of doing something opposite to NA, both aesthetic and identity wise. I wanted a gentle madman, a sophisticated crook, a classy riffraff. A brand with enough personality that can easily be carried by a small powerful symbol. A scar. (and because the name is easy to pronounce and, in under one syllable, and thought it sounded cool.)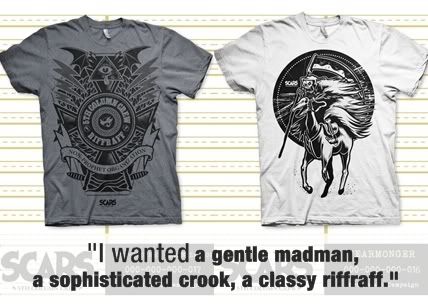 Has owning a clothing line changed you as an artist? How?
Yes, very much. I had already set a holistic creative brief for Scars two years before its actual production, so in a way, I had to strictly outline the direction of the art I was making, and how EVERY piece will look different, but followed a certain kind of cohesion. Also there is the part where I'm running real time production,and I know exactly how my printers will be handling the artwork and I compromise on the next few pieces to get the print output I really want.
When and how did being an artist morph into running a clothing line?
I guess it came naturally. As a designer and a self-confessed merchandise connoisseur, I wanted items unique and wanted them in a certain style, manner, and form. This is part of the reason why Scars was born. To wear what I've always wanted to wear. Selfish reason? Yes. Not ashamed of it one bit.
If this is not a big secret, can you tell us what the next big thing for Scars is?
When class and crass collide. (cue Powerman 5000 song) 
What is it like owning an independent clothing line in Cebu? Do you have any opinions about the state of this "young" industry in the city?
The experience is awesome. Could be better, but still awesome. I think at this point, now that facebook has demanded this $5 usd per post policy, not everything will reach the desired consumer target. I do not believe this will "kill" the industry, but the approach of exclusivity will come full swing; where word of mouth gets you by, and only by developing interesting content do you get support from it. I also believe it will still reach its peak, with brands pumping out better products, and lots of premium items never seen before in the industry. ( i.e. hoodies, armbands, belts, shoelaces, rings, cut and sew, caps, etc.2)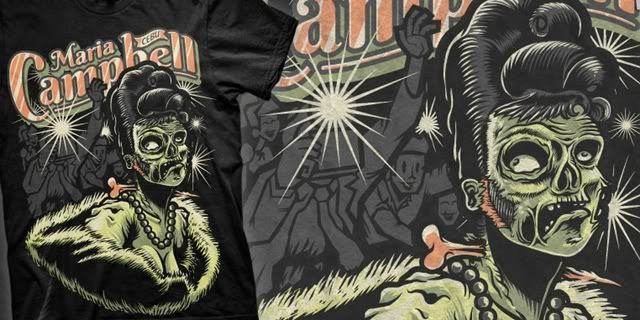 From our background check, we learned that you have a day job, a clothing line, and you also do freelance work. You also make music. How do you do it? How do you manage your time? Do you have a timeturner?
If you love what you do and have fun doing it, you will find the time to do it, regardless.
Do you have any plans to continue making music?
I still am. I just don't play it in front of people anymore. Just for my own selfish listening pleasure.
Tell us five random facts about you.
My car has a name. I'm obsessed with shoes. I can control the volume of my sneeze. I once put toothpaste on my face, and facial wash on my toothbrush. I had every He-Man toy out there. They were stolen.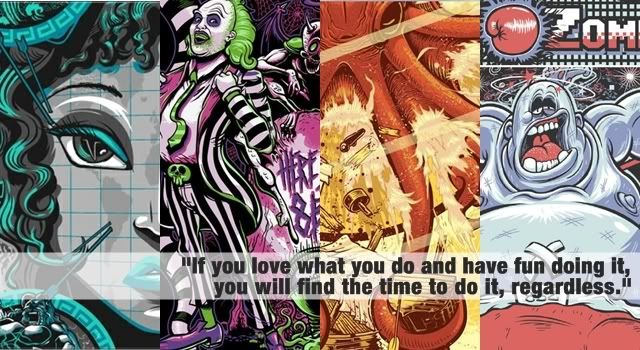 Chad Manzo elsewhere: STORE PORTFOLIO
And to whoever stole his He-Man toys, you suck harder than a kraken. 
Comments
comments